Player interface includes:
Main screen
Settings screen
Main screen includes: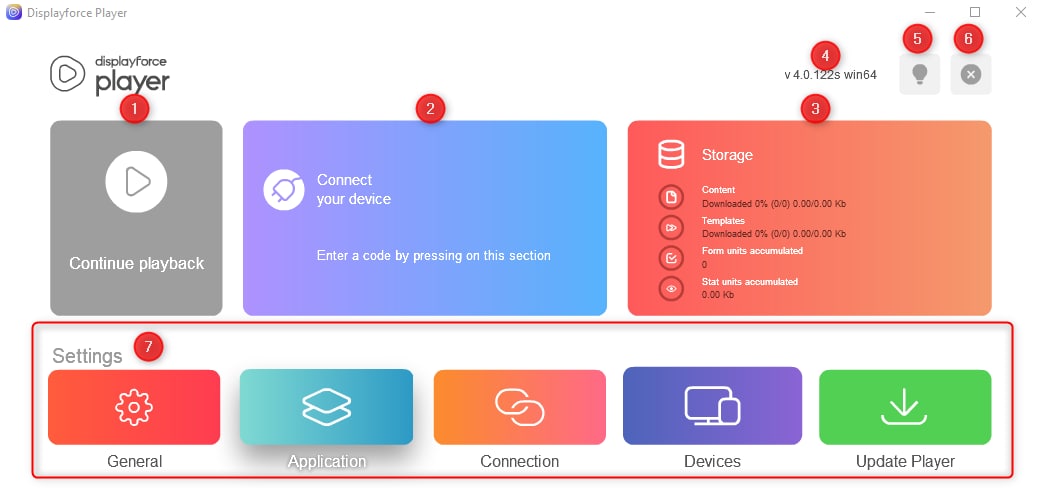 "Continue playback" button which allows to start playback of the campaign that is assigned to this device
Device info block that displays:

device name
connection status
platform that the device is connected to
IP
device RAM state
device date and time

Storage info block that displays


download state, number and size of the content
download state, number and size of templates
number of form data accumulated on the device
number of statistics data accumulated on the device

Player version info
Connection hint button
Player exit button
Settings buttons
Settings screen includes: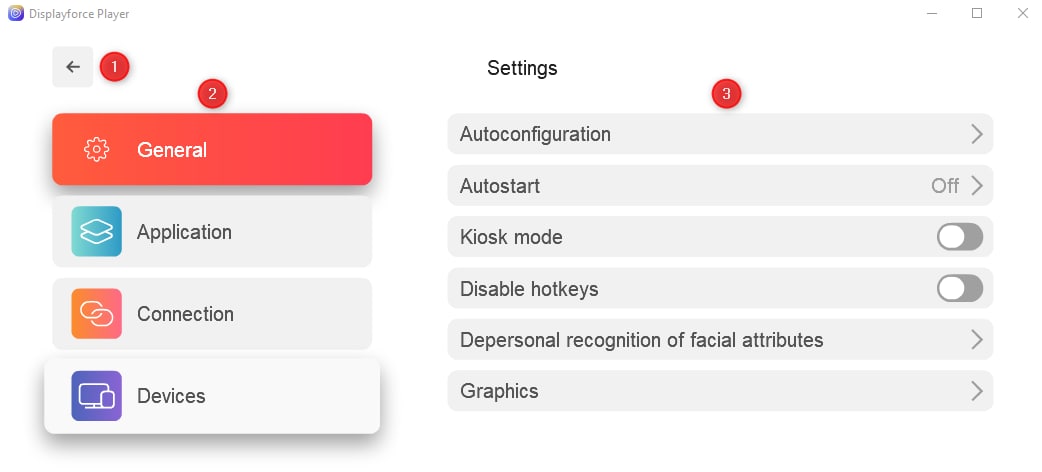 "Back" button that allows to return to the main screen
Settings tab navigation buttons
Settings buttons and switches
Settings include 4 tabs:
General
Application
Connection
Devices
General settings include: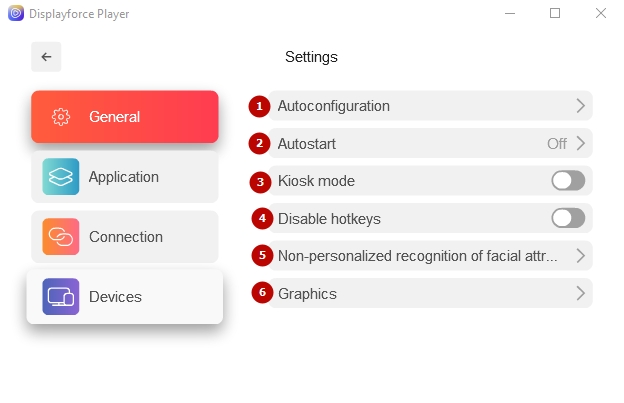 1. Autoconfiguration button. System can automatically configure (adapt) your device for use as the player.
It is proposed to choose one of three variants of configuration:
1. Basic – optimizes performance and power settings of the device.
2. Standard – includes the basic configuration mode, hides desktop icons, enables auto-hide taskbar in desktop mode function, automates system login.
3. Advanced – includes both previous modes, disables OS loading animation and disables the ability to change session (switch accounts Win + "L" hotkeys).
After performing the autoconfiguration, it is recommended to reboot the device for the changes to take effect. It is also possible to reset all changes made by autoconfiguration. Click "Disable" button to do this.
2. Autostart button. This function can be used to make the player start campaign broadcast when it you turn it on. Also, it is possible to delay launch of playback by 5, 15, 30 or an arbitrary (not more than 600) number of seconds.
3. Kiosk mode switch. Kiosk mode is designed to block unauthorized attempts to exit the program, system windows, menus and other things.
4. Disable hotkeys switch. Disables the possibility to use such hotkeys as win + d, win + m, alt + tab, etc during the playback.
5. Non-personalized recognition of facial attributes module switch (on/off). Attention! This feature will only work if there is a camera connected to the device and an active subscription to the "Content views analytics" module. The module provides ability to determine following information about user (who can be detected by camera, connected to the device):
- Demographics (age, gender)
- Attributes (presence of glasses, hair type, hair color, etc)
- Emotions
- Customer Journey (Track ID, customer recognition from camera to camera)
- Masks
6."Graphics" section
- Quality – it is possible to select the broadcast quality: "High" or "Best". Note: choosing the "Best" quality will place an additional hardware load on the device.
- FPS – number of frames per second drawn by the player
- Smoothing – the smoothing function switch (removes "jagged effect", the display becomes more organic)
- Use hardware video decoding – increase the player performance through more rational use of hardware resources of the device
- Optimize video for low-end devices – turn on this option and your device will better play video-content. Note: it is recommended to use this option exclusively for playing devices on devices with low technical characteristics (for this purpose in ad campaign use "Fullscreen static" template). Also this setting allows you to play mp4 (h264) video on devices
- Vertical synchronization – turns on the vertical sync feature, increasing the smoothness of the image.
Application settings include: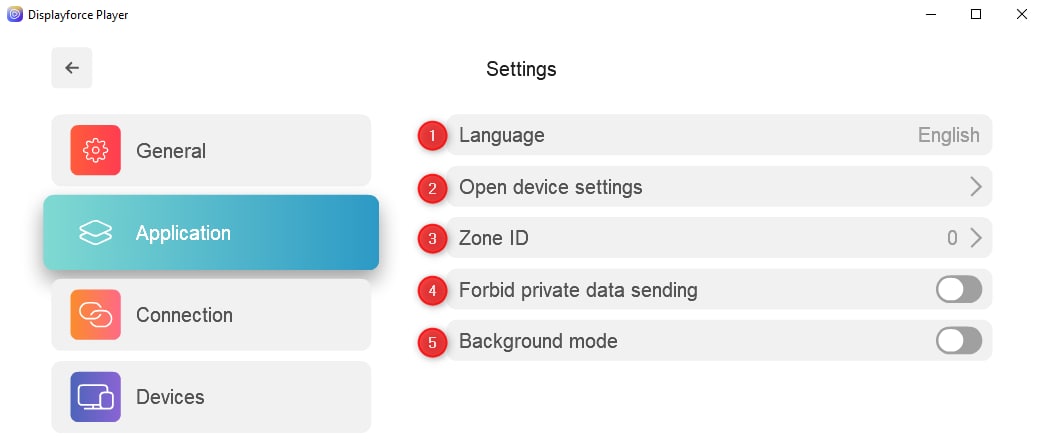 1. Language button
2. Button to open parameters of device operating
3. Zone ID button (for setting videowalls)
4. Background mode switch
5. Forbid private data sending switch (ability to take a screenshot of the device screen from your platform)
Connection settings include: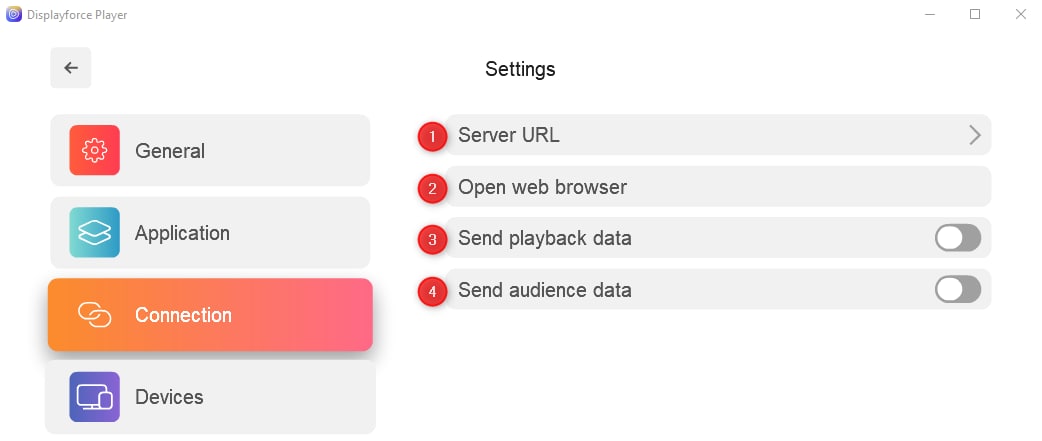 Server URL button. If you use On-Premise solution you must specify the server's API address. Information about the server address is provided at the time of software deployment and can be specified from responsible persons. Usually, if your platform is available at http://panel.domain, your API-address will be http://api.domain .
Button to open default OS web browser
Send playback data switch
Send audience data switch
Devices settings include: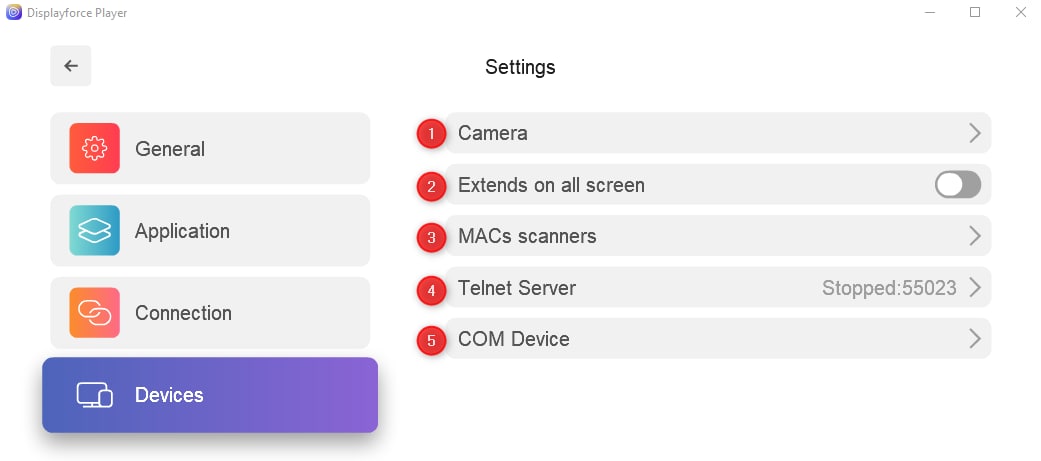 Camera settings button. It is possible to configure rotation of display of the camera. Also you can specify recognition channel.
Extend on all screens switch. There is an opportunity to extend the display on all screens.
Connect to MAC address scanners button
Telnet server settings menu.
COM Device