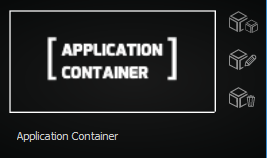 The "Application container" component is used for integration and launch of external applications in the project template.
This component enables integration of:
SWF-applications;
Android-apps (either using APK-file or by ID, e.g., com.company.app);
Invisibility mode (hiding the player from the media display point screen upon command, e.g., clicking/tapping a button layer).
For app integration, select the required type of integration in the "Type" field, then use additional fields to enter corresponding data (file path or ID).

The component will be set up.