The "Content" section is designed for storing and sorting of all content that is used in Campaigns
This section contains:
Action menu that allows to add content, folder, content group, switch to item selection
View and sorting mode selection menu.
Content and folders
Avaliable disk space indicator (avaliable disk space can be extended by purchasing special subscriptions)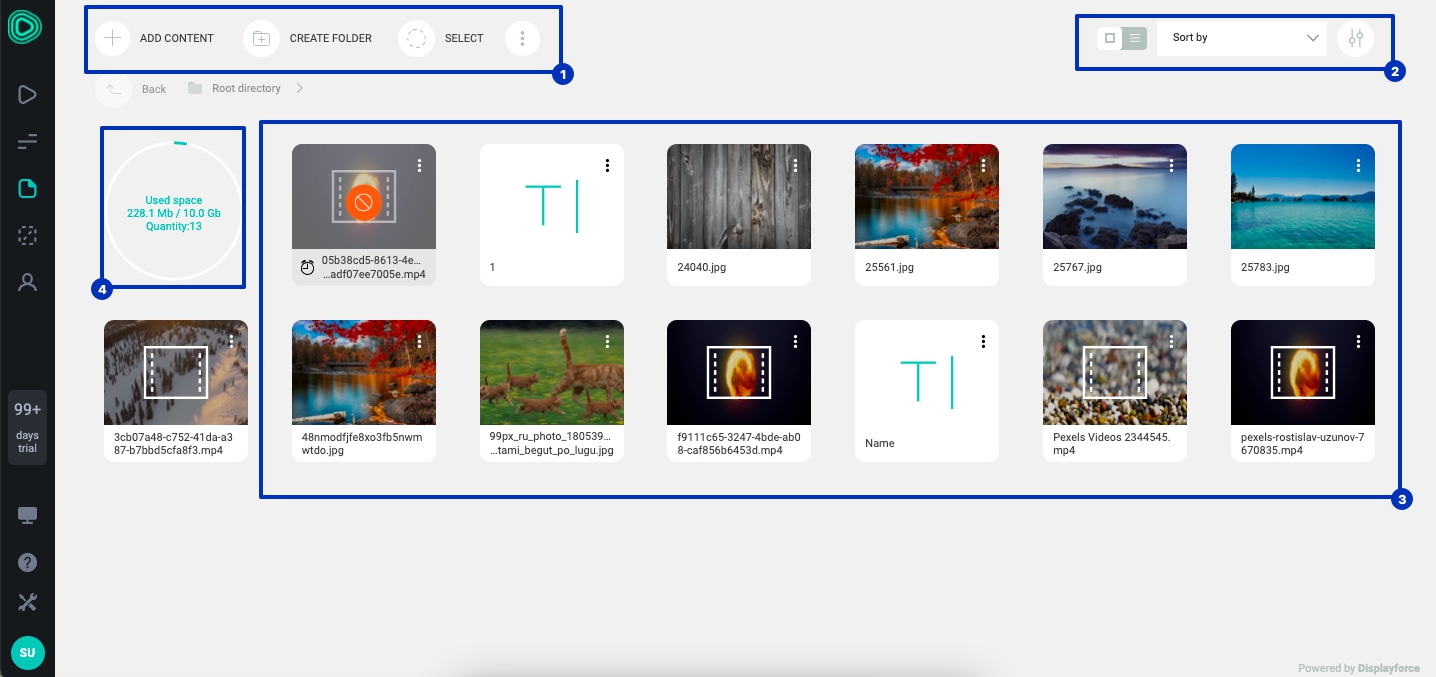 Uploading content
To start interacting with this section first you need to upload content.
Content can be represented by images, video, audio and text files.
There is two ways to upload content
Using the "Add content" button
Press the "Add content" button and then choose one or more files on your PC to upload them.
Using Drag&Drop
Choose a file on your PC and drag it into the browser window with the "Content" section open, the file will be uploaded. You can upload content with conversion.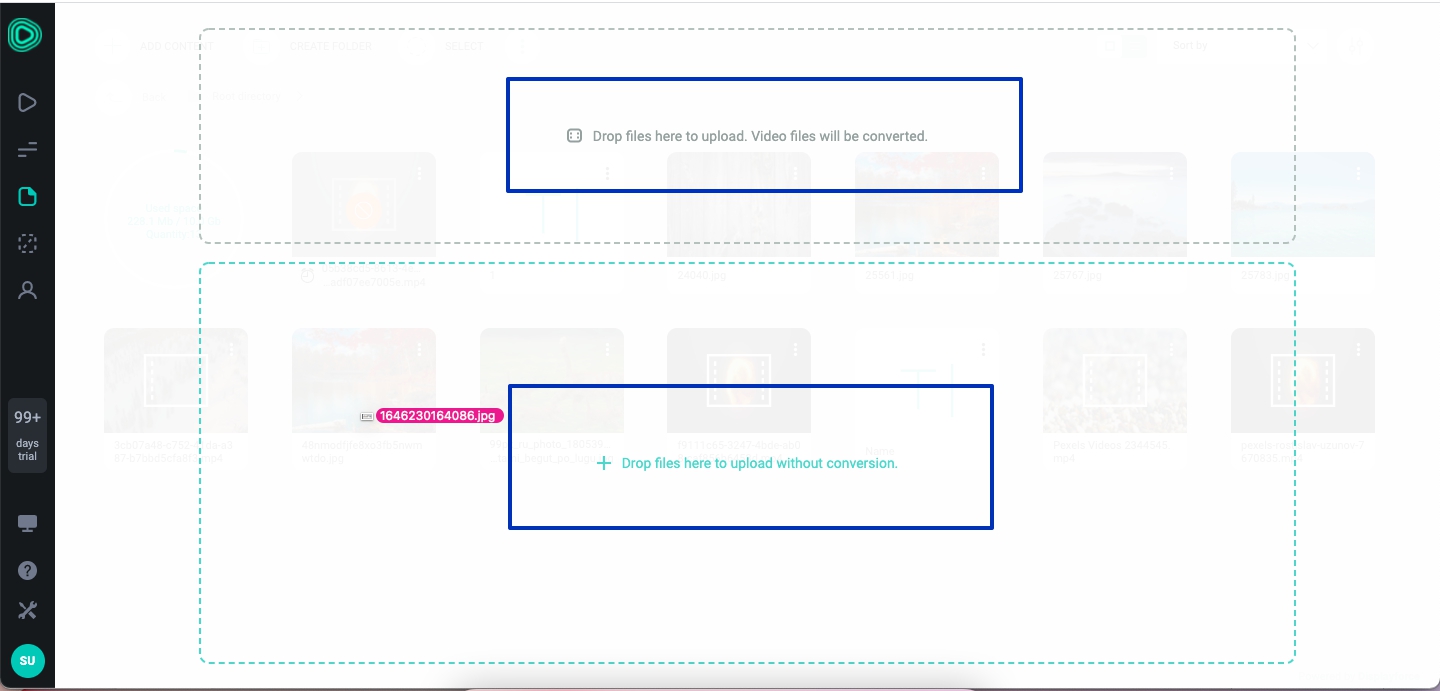 When the content is being uploaded in the lower right corner of the window a popup will be displayed. It contains information about the upload status and any errors that occur during the uploading process.
Content actions
You can perform multiple actions on content files in this section, such as:
Viewing
Renaming
Moving
Viewing properties and setting lifetime
Downloading it to your PC
Deleting it from CMS
These actions are avaliable in the menu that is displayed on click of the "Three dots" button.
Creating folders
In this section you can create folders to make sorting content easier.
To create a folder press "Create folder" button in actions menu
Folders are used to store content files in them and to make it easier to navigate through your files
Actions that are avaliable for folders:
Renaming
Moving
Properties
Deleting
Navigating through folders
After opening a folder in the upper portion of the content secion a navigation menu will appear. It allows to quickly move to previously opened folders.

Pressing on an element in this menu will redirect you to a corresponding folder.
Creating content groups
To create a content group press "Add content" - "Group of content" button in actions menu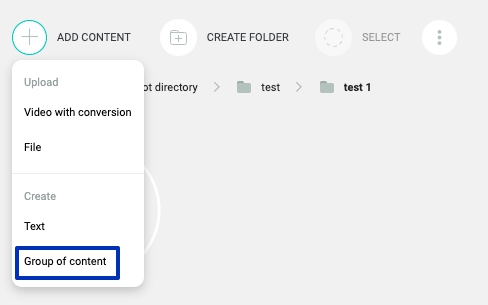 Before using a group you will have to add content into it. Do do this open your group and press "Select files" button, a popup window will appear with a list of the folders and files that were uploaded to your CMS. Select files that you want to add to a group and press "Apply"
Groups are a lot like playlists, but with some important differences:
A group is a single content unit and is always played from the beginning to the end following the order of files that is set in a group. For example: a playlist is set to play random elements and there is a group among these elements, if a group is chosen - it will be played from the beginning to the end, no matter how many files it contains.
Altering a group affects all campaigns in which it is present and changes are applied as soon as they are performed with a group.
Moving objects
Folders and content files can be moved between folders. To do it open action menu and select "Move"
After this a navigation window will apperar in which you will need to choose a folder to move item to. You can select a folder using two methods.
clicking on a checkbox and pressing "Apply" button
navigating to a desired folder and pressing "Select current directory"
You can also move folders with their contents and content groups in such a way.
Display and sorting settings
You can change representation of this section using settings in the right upper corner.

First setting changes the way elements are displayed (1)
Second settings changes the sorting method (2)
Third settings allows to display only one type of content (3), such as:
name
tipe
status
directories
campaigns
This setting only applies to content in current folder.